Menu development
Non Alcoholic Hot Drinks And Flavour Combinations For The Ski Season
Skiing has remained a popular winter sport and pursuit – the beauty of the snowscape coupled with the thrill of the ski are hard to resist. The right drinks can really enhance the experience by warming you up and helping you indulge in something comforting and luxurious.
While there is nothing wrong with having an alcoholic drink on the slopes, there's a plethora of interesting non-alcoholic hot drinks that can be made quickly and easily with minimal fuss.
It's a simple approach and you just need to select the base, modify and then add complexity to it. You'll need a large soup cauldron, urn or kettle to keep the liquid warm for several hours. Just make sure that it's big enough to serve everyone.
If you feel inspired and want to go out and buy a new kettle, then look for one that is powerful enough to bring the liquid up to temperature quickly. This way, if you do run out you can very quickly prepare a new batch.
One thing to point out is that the aroma that these drinks create is a selling point so make the most of this. You probably won't notice it yourself as we tend to desensitise to aromas that surround us. So, if you want to experience what your guests experience, take a step outside, smell some coffee beans (a great way to reset your sense of smell) and walk back in.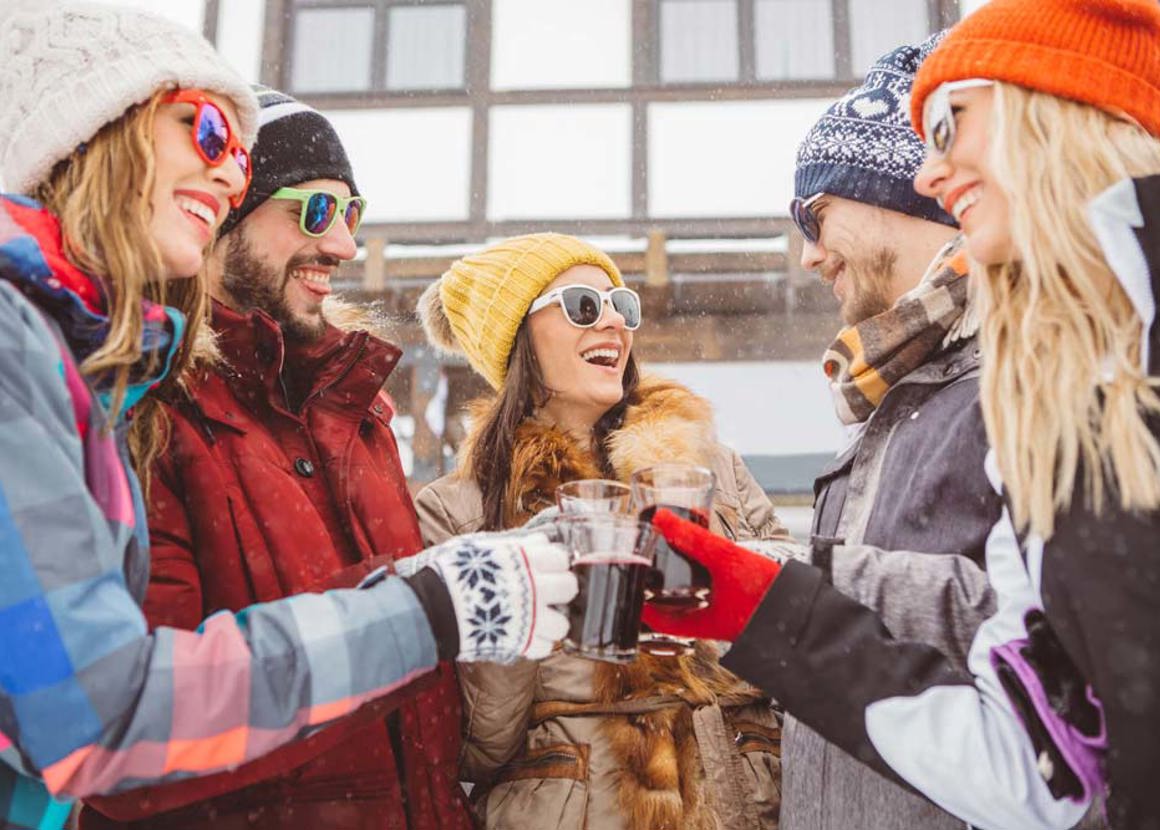 Non-Alcoholic Hot Drinks For You To Try
You can use many things for the base of your hot drinks. Wine is traditional and smells great, but we want to stay safe on the slopes, so the go-to-works-with-almost-anything ingredient is warm apple juice. Ideally get one which is not from concentrate and a cloudy apple juice works brilliantly.
From this base all you have to do is add 2 parts lemon juice to 1 part flavoured syrup from the Mathieu Teisseire range. You can add these to the mixture and warm all of it together (you get the benefits of the additional aromas) or you can keep the warm apple juice as the base and offer a range of flavour alternatives.
These types of drinks lean into the trend for low and no alcohol too so it's a win-win.
Flavours that work incredibly well with apple are blackberry, blueberry, blackcurrant, cherry, cranberry, mango, passion fruit, pink grapefruit and lychee which can all be found in the Matthieu Teisseire range.
The final part is to add a little spice. It's difficult to go wrong but start by adding cinnamon because it works so well with the apple and then go from there. We like to add cloves as the aromatics are beautiful.
Go forth and experiment and be sure to let us know of any combinations that you find work well together.
For more inspiration, take a look at our 'Winter Wonderland' recipe collection.
DISCOVER THE LATEST TRENDS